Trend/ ARCHITECTURE
MVRDV – Creative architects
By Emmanuel Monvidran
Imagining iconoclastic projects is the specialty of this trio of Dutch architects. Zoom in on their Dutch-built UFOs. Show ahead!
The story doesn't say whether the Museumpark Rotterdam claims the phantasmagorical heritage of Lewis Carroll's famous tale Alice in Wonderland.
One thing's for sure, though, and that's that its visitors will find it hard to hide their astonishment when they come face to face with this huge surprise: a sparkling 40-metre-high bowl of art in which no fewer than 150,000 museum pieces are both stored and displayed. And as if that weren't enough, in the center of the same Dutch city, you can shop amidst giant apples, tulips and herrings! These make up the tangy decor of an immense gourmet hall, whose cloistered stalls seem to fill a Yule log that's been opened on either side. There's nothing imaginary about this astonishing journey. In fact, it can be continued in Amsterdam, again without resorting to the consumption of artificial paradises. Since last year, La Vallée, a mikado of cantilevered terraces, has been drawing its extraordinary urban canyon in the Dutch capital's business district.
All these descriptions belong to real life. However, these buildings only give a glimpse of the fantastic creative mosaic of the MVRDV agency: three Dutch architects united in a collective like no other, who, since 1991, have been producing surrealist buildings with concepts that are as revolutionary as they are furiously Instagrammable. With, as a bonus, projects carefully dimensioned to remain in phase with the human scale, with a constant concern for environmental care. "My mother was a florist. I first studied landscape gardening in Boskoop from 1978 to 1983, then at the Technical University of Delft in the Department of Architecture and Urban Planning", recounts Winy Maas (64), the M of MVRDV. His associates, Jacob van Rijs (59) and Nathalie de Vries (58), are also graduates of Delft University.
Architecture, landscaping, urban planning, design… The trio first earned their stripes with a number of projects developed and carried out in their own country, then internationally. The leitmotif of their proposals? A made-to-measure approach to the contemporary city and its objects. In 2002, for example, he designed a building made from containers for the port city of Rotterdam, a city with no shortage of containers. "The city is a composition of objects. Take the Boijmans Museum's collection depot. In a footprint that we wanted to be as small as possible, we put the garden on the roof, while the shimmering exterior facades of this hyper-bowl increase the presence of the sky and the surrounding landscape," continues Winy Maas. Better still, this object was built with round shapes so as not to turn its back on anyone. It has a tendency to fade away, to disappear. ■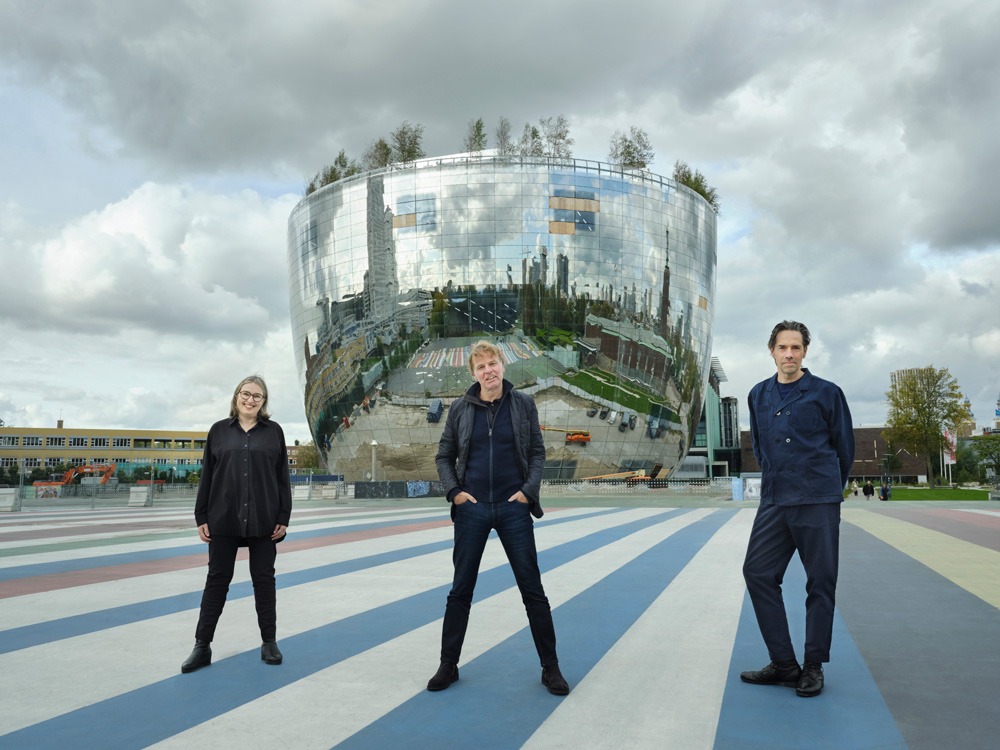 The Depot
Rotterdam (2021)
15,500 square meters, 40 meters high… This is the world's first site allowing public access to a museum's reserves, the new architectural icon of Rotterdam's Museumpark. This gigantic concrete bowl features a full-height atrium. On two floors, it houses the reserves of the Boijmans Van Beuningen museum's collections, which are not on display elsewhere due to lack of space: 63,000 paintings (Fra Angelico, Van Eyck, Bosch, Brueghel the Elder, Rubens, Rembrandt, Van Dyck, Corot, Monet, Van Gogh, Rodin, Dalí, etc.), photographs, sculptures, installations, as well as 88,000 drawings and prints. The mirror-like outer skin, covered with 1,664 glass panels, reflects the surroundings, contributing to the "invisibility" of the building, which blends naturally into its surroundings. On the top of the six levels, the rooftop, planted with birch trees, offers 360-degree panoramic views over Rotterdam.
boijmans.nl/en/depot
Winy Maas (center), Nathalie de Vries and Jacob van Rijs, architects of the Museum Boijmans Van Beuningen Collection Reserves Repository, open to the public since 2021.
Markthal
Rotterdam (2014)
120 meters long, 40 meters high, 17 meters wide… The first covered market in the Netherlands nestles under the arch of this huge horseshoe in the heart of downtown Rotterdam. Its stalls are open to the public from 10 a.m. to 8 p.m. Apples, herrings, tulips, fresh produce… On the inside facade of this temple to gastronomy, a 3D-printed fresco on aluminum panels covers 11,000 square meters (two soccer pitches): a work of digital art by Arno Coenen and Iris Roskam entitled Corne d'abondance. The dream of a mix of housing and retail is illustrated by 228 apartments nestled between the 12-storey curves of grey granite. Opening up the building to the city, large glass windows close the walls on both sides. Their flexibility is designed to withstand storms. As an added bonus, the complex boasts an underground parking garage with some 1,000 spaces.
markthal.nl/en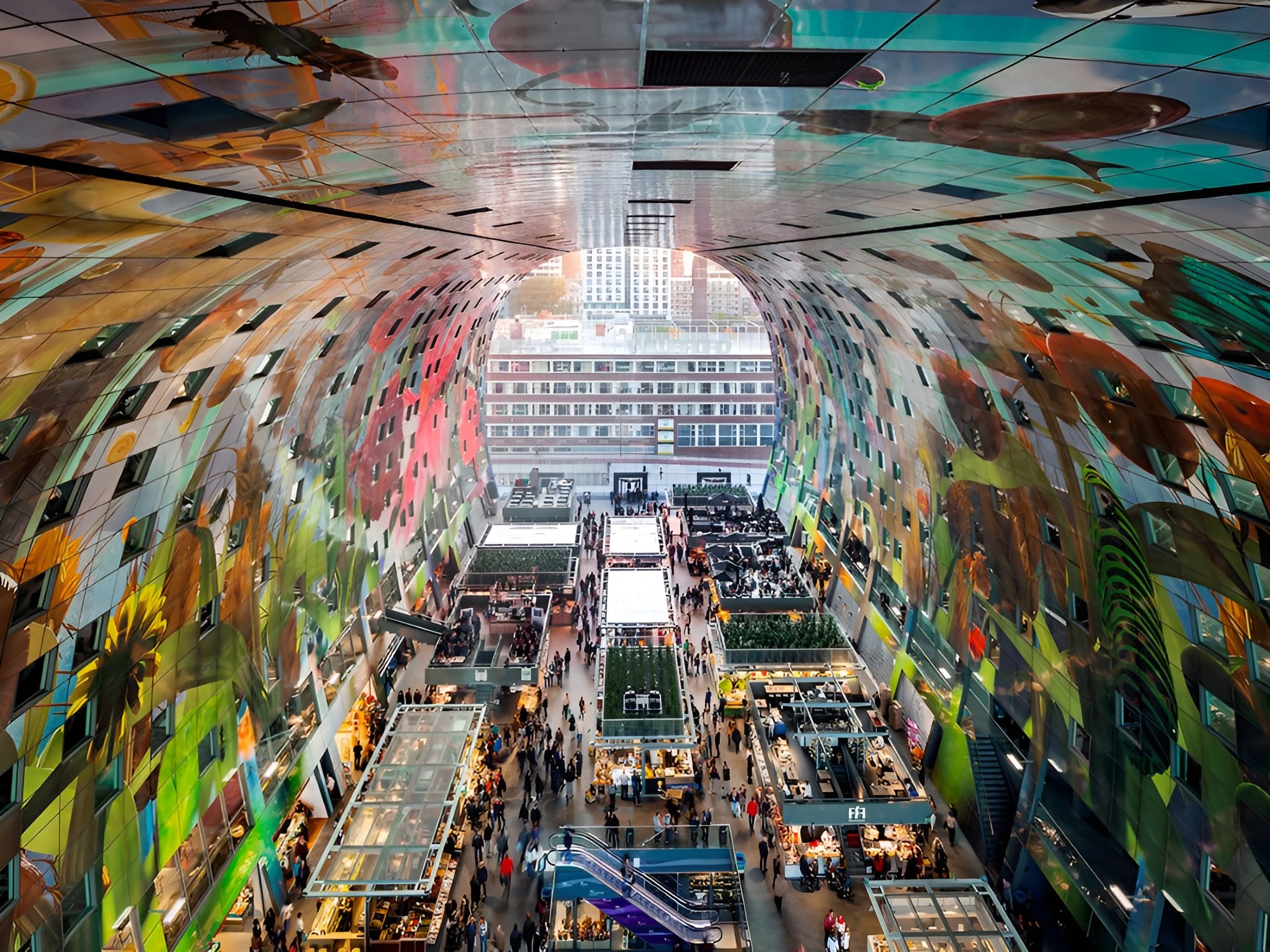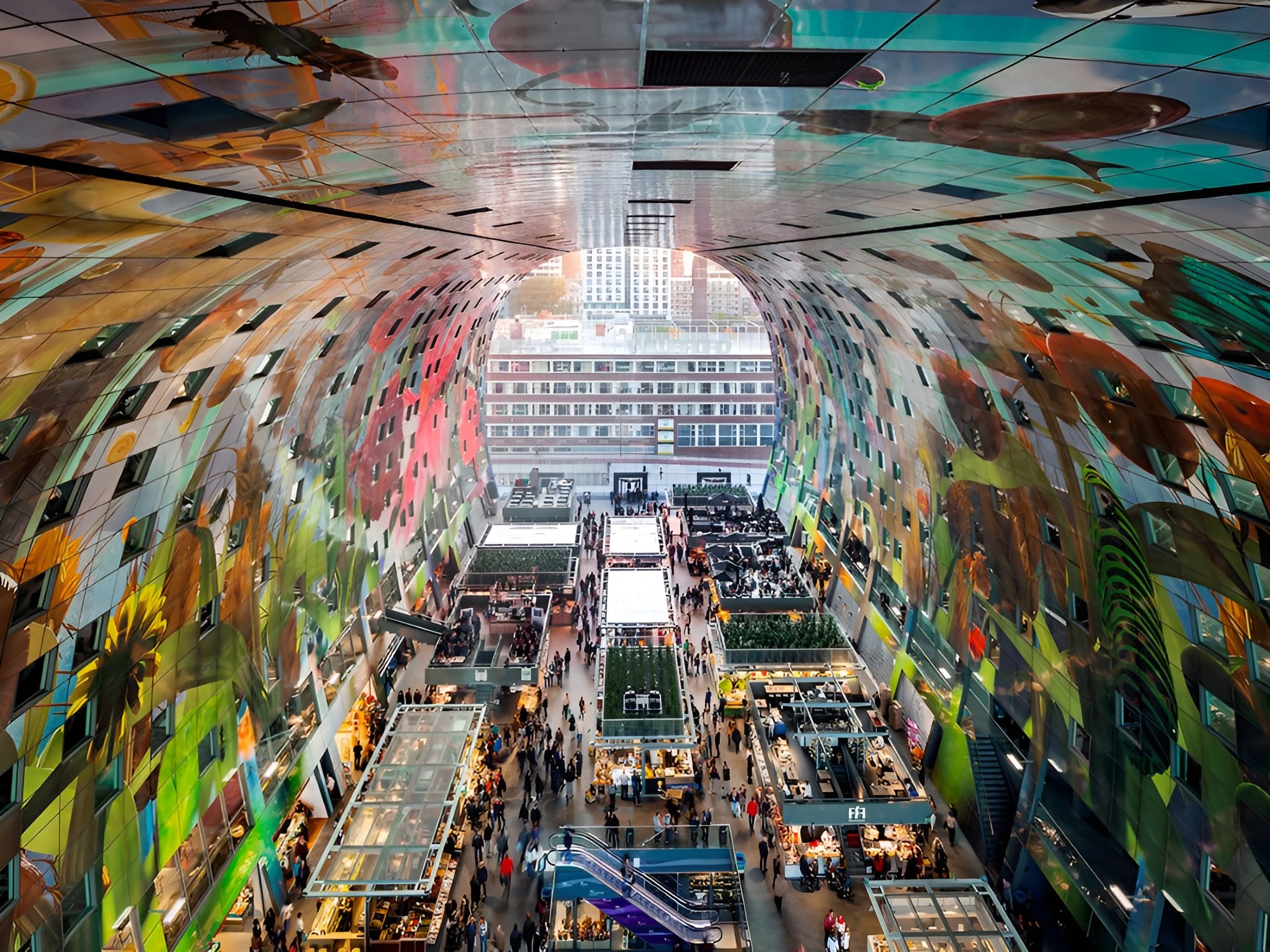 Markthal
Rotterdam (2014)
120 meters long, 40 meters high, 17 meters wide… The first covered market in the Netherlands nestles under the arch of this huge horseshoe in the heart of downtown Rotterdam. Its stalls are open to the public from 10 a.m. to 8 p.m. Apples, herrings, tulips, fresh produce… On the inside facade of this temple to gastronomy, a 3D-printed fresco on aluminum panels covers 11,000 square meters (two soccer pitches): a work of digital art by Arno Coenen and Iris Roskam entitled Corne d'abondance. The dream of a mix of housing and retail is illustrated by 228 apartments nestled between the 12-storey curves of grey granite. Opening up the building to the city, large glass windows close the walls on both sides. Their flexibility is designed to withstand storms. As an added bonus, the complex boasts an underground parking garage with some 1,000 spaces.
markthal.nl/en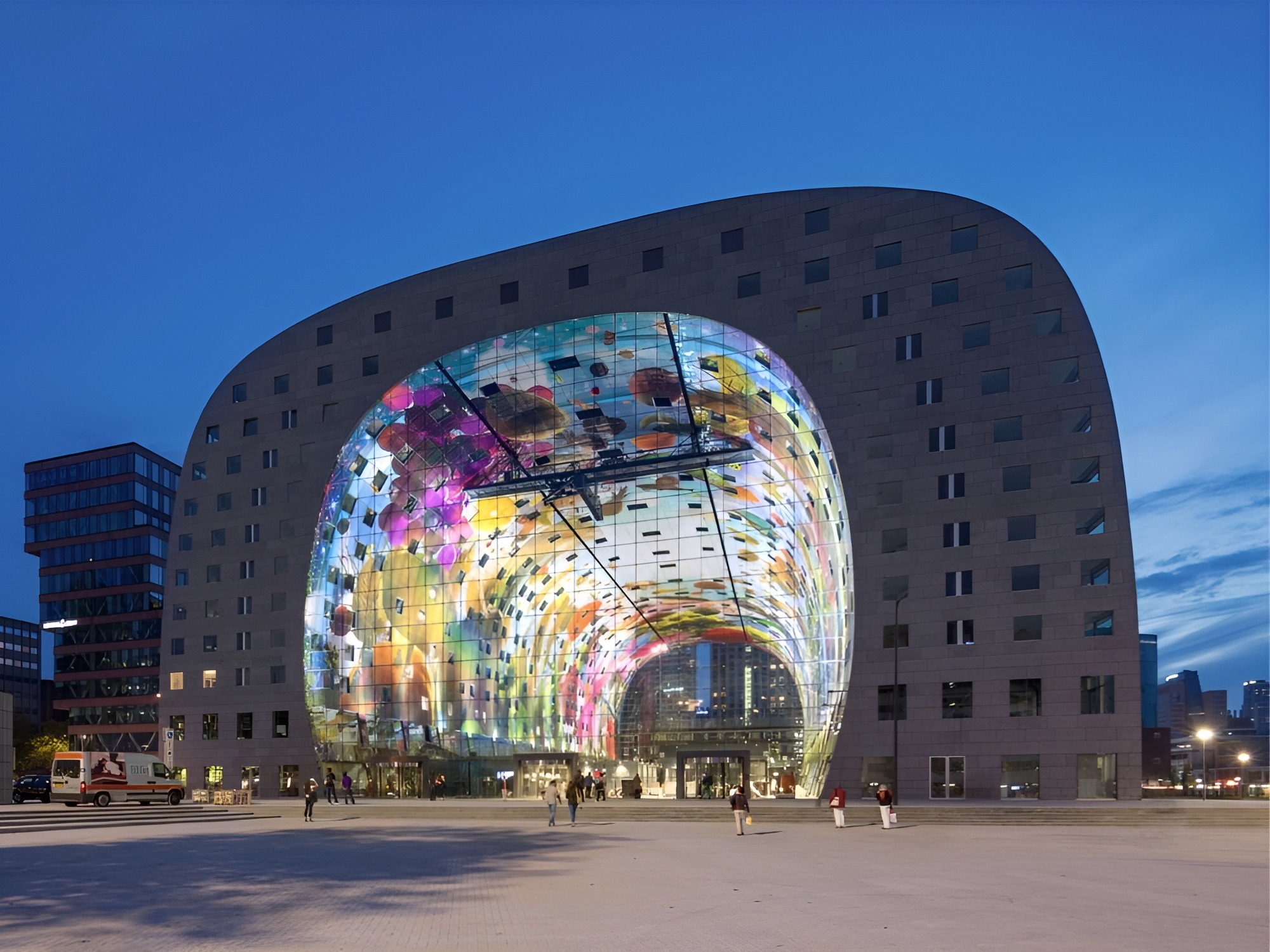 Valley
Amsterdam (2022)
100 meters high, 75,000 square meters… In Zuidas, the Dutch capital's business district, three identical buildings carved out of stone form a surprising mountain range. This iconoclastic triptych, adorned with omnipresent greenery on every floor, features a mix of uses. On the menu: 200 apartments, 7 floors of offices, shops, cultural spaces and 375 parking spaces. Criss-crossing the heart of the central valley, a pedestrian path (designed by landscape architect Piet Oudolf) climbs from the street to the roof terraces. Punctuating the interior façade, a series of vegetated stone terraces cover the building with greenery, putting people back at the heart of the structure. The residential boxes stacked at the edge of the envelope form a single volume, read as a single entity. Drawing a veritable urban canyon, the wide-angle bow windows of these spectacular emergences offer extraordinary panoramic views.
valley.nl